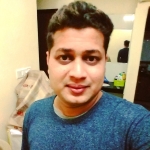 Lots sent:
20
Lots received:
15
Lots in progress:
2
Stars received:
4.90
Country:
India
Languages:
English, Hindi, Gujarati, Marathi
Member since:
09 August 2017
Last activity:
28 March 2021
Hello Friends,
My Name is Maulik Kasari. I am from City - Nadiad, State - Gujarat, India.

I would love to receive Aviation Stamps/MS/Maxim card issued by Department of post of your country's with aviation related stamps.
i.e. Aircraft's, Fighter planes, Pioneer of Aviation, Wright brothers, History of aviation in your country, First Flight fdc, Military aviation – in short any stamps related to Military planes/planes, Cancelled Stamps, Old Airmail Stamps.
Also Collects Fifa Stamps(FIFA 2018), Europa, Cartoon characters, Odd and Unique stamps, old stamps, Stamp on WW1 & WW2.

Thanks.