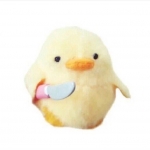 Lots sent:
7
Lots received:
0
Lots in progress:
0
Stars received:
5.00
Country:
Ukraine
Languages:
Member since:
19 September 2017
Last activity:
16 March 2018
Hello!
My name is Tania, I'm 23 yo and I'm newbie in stamp collecting. I do not have thousands of stamps but will do my best to always surprise you (in a good way, of course!!)

My favorite topic:
- birds <3
- animals
- movies and cartoons

I prefere stamps from 2000 and +

Please no people's face as I don't like them, and no definitives please!