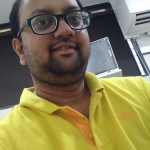 Lots sent:
30
Lots received:
28
Lots in progress:
2
Stars received:
4.90
Country:
India
Languages:
ENGLISH
Member since:
12 May 2018
Last activity:
03 April 2020
AS MY FIRST PREFERENCE , I WOULD LIKE TO RECEIVE STAMPS ON CINEMA THEME( INCLUDING ACTORS, ACTRESSES, SINGERS, DIRECTORS, PLACES SHOWN IN MOVIES, WRITERS ON WHOSE WORKS
OR PERSONALITIES ON WHOSE LIFE MOVIES ARE MADE, ETC.) STAMPS ON ANIMATED MOVIES, GAME OF CRICKET, (SPORT, STADIUMS, CRICKETERS, ETC) , CARTOONS LIKE DISNEY, AND OTHERS .

AS MY SECOND PREFERENCE, I WOULD LIKE TO HAVE ODD SHAPED STAMPS , STAMPS ON FOOTBALL, HERITAGE OF YOUR COUNTRY, ETC

ELSE YOU CAN SEND ANY GOOD REAL STAMPS AS PER YOUR AVAILABILITY AND PREFERENCE. But no definitives.